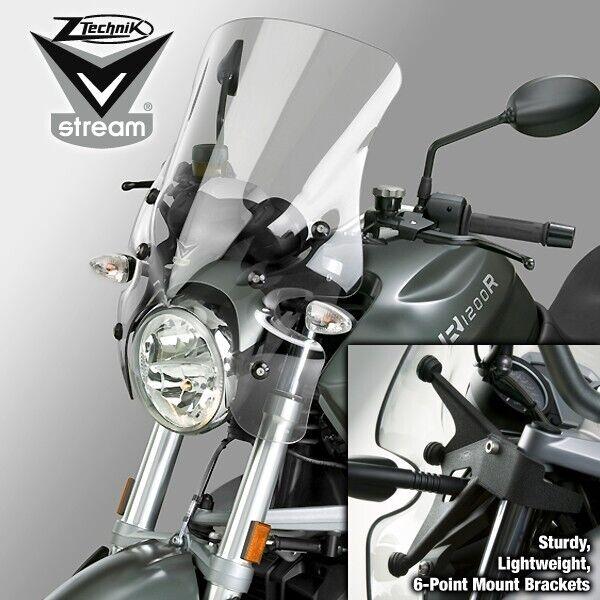 Ztechnik
windshield for BMW R1200R ztechnik Z2442 windscreen V-stream Clear -
---
Ztechnik  R1200R BMW windshield Z2442  replacement windscreen V-Stream clear z2442 2004-2012 The design of the Z2242 R1200R windscreen from ZTechnik comes straight off the Autobahn!  this windscreen is designed for highway wind and weather protection for the sports  rider who rides highways FAST! 
Width: 18.00" (45.7cm)
The light tinted Z2442 features integrated lower deflectors to reduce turbulence and backdrafts. They make this windscreen function like a fairing, and make your riding experience more comfortable. This windscreen includes a highly engineered, 6-point mounting bracket that is super-strong yet lightweight. When mounted, it integrates perfectly with the bike's upper triple clamp.
The windscreen and mounting brackets will work with either U.S.A. or European market turn signals.
Tough 4.5mm Quantum hardcoated polycarbonate gives this VStream windscreen outstanding clarity and strength characteristics unmatched by any windscreen maker worldwide. This windscreen is 30X more resistant to abrasion than acrylic materials, and has 20X greater crack and impact resistance.
ZTechnik by National Cycle:
Accessories Exclusively for BMW Motorcycles.
Polycarbonate is used for outstanding optics and impact strength 23X better than acrylic. Then we add our exclusive Quantum hardcoat for scratch resistance 10X better than FMR coating and 30X better than acrylic replacement screens. This is one tough windscreen!
ZTechnik by National Cycle:
Accessories Exclusively for BMW Motorcycles.
---
Share this Product
---
More from this collection